Share the post "Own your fitness transformation"
In the pursuit to find happiness, by trying to achieve my goals in the corporate world, I found myself spending 16+ hours a day in front of a machine called Laptop. While my corporate journey started around mid-2000, there's one another journey that kicked-off, somewhere in 2010 and continued for the next 5 years, towards excessive fat acquisition. This happened primarily due to the sedentary lifestyle with minimal activity. Well, the saga continued until I realized human bodies are born to move.
This story may resonate with every corporate knowledge worker who is engulfed in the multitude of corporate and personal errands or even with someone who is not part of the corporate world. Our lives just revolve around the office, home, food, and the idiot box. Finding time to break this perennial jinx becomes impossible and we tend to accept and find solace in the status quo. To a few of us, several attempts with irregular regimes at gymnasiums and diet plans do help a bit, but it's all lost in a jiffy due to lack of regularity. Welcome to my fitness journey, I happy to share this with everyone to help you get started.
What triggered my transformation
I was never in sports since school, forget being athletic. In the past three years, I may have run more than the cumu
lative distance that I would have run in all the years since childhood. Fitness is my passion and love now, in addition to marketing, and I would love to share with everyone all that I have learned and the positivity it brings into our life.
Looking back, it all started in the year 2016 which I consider as a turning point when I realized that disrupting the status quo in my life by inculcating a healthy lifestyle is indispensable.
Towards the end of 2015, amid other events, my Father underwent open-heart surgery, and it took him 6 months to recover due to post-surgery complications (I lost my Dad in Jan 2020 to organ failure). That life-event around 2015-16 was a cue that triggered my transformation and I decided to disrupt the existing state of affairs in my life.
What did I do?
Around mid-2016, I had to move to Pune because of a job change. This is when I got introduced to a runners' group (Republic of Runners) which used to organize group runs around Koregaon Park and nearby areas. I joined the group for the fun of group runs and gradually it became a part of my life.
I must admit, RUNNING IS ADDICTIVE and we experience "runner's high".
From not being able to run even 100 meters to comfortably doing 1K and then my first official 5K around Christmas 2017, and quickly adding mileages with 10Ks at multiple running events, I was able to build my endurance. I kept training for my first half marathon (HM, 21.1K) and finished the race stronger due to consistent practice. During the process, I realized it's all in the mind and we can do much more than what our body and mind are capable of. I still remember when I almost cried, out of happiness, after having finished my first HM practice run. Over the past few years, running has provided a new dimension to my outlook on life, besides helping shed the bulk from my body.
What does health transformation encompass?
The transformation process is a journey, and one needs to enjoy every bit of it. It DOES NOT include ruthless crash diets or diets with fancy names, working out for numerous hours, and abruptly binging on salads 4 times a day in the name of clean eating. It is about eating right, being honest to oneself, and following a consistent schedule with an equal proportion of everything you love. Let me get into a little detailing here and elaborate on 6 must-dos for everyone to stay motivated in your transformation journey.
Choose a goal – Whether you want to shed some extra Kgs or gain some weight, whether you want to run a marathon or a triathlon or run an Iron Man triathlon, the first step is to identify your objective. Choose what you want to achieve. The journey can be slow, the progress can be incremental, but what matters is you should keep moving and get back to it after every break.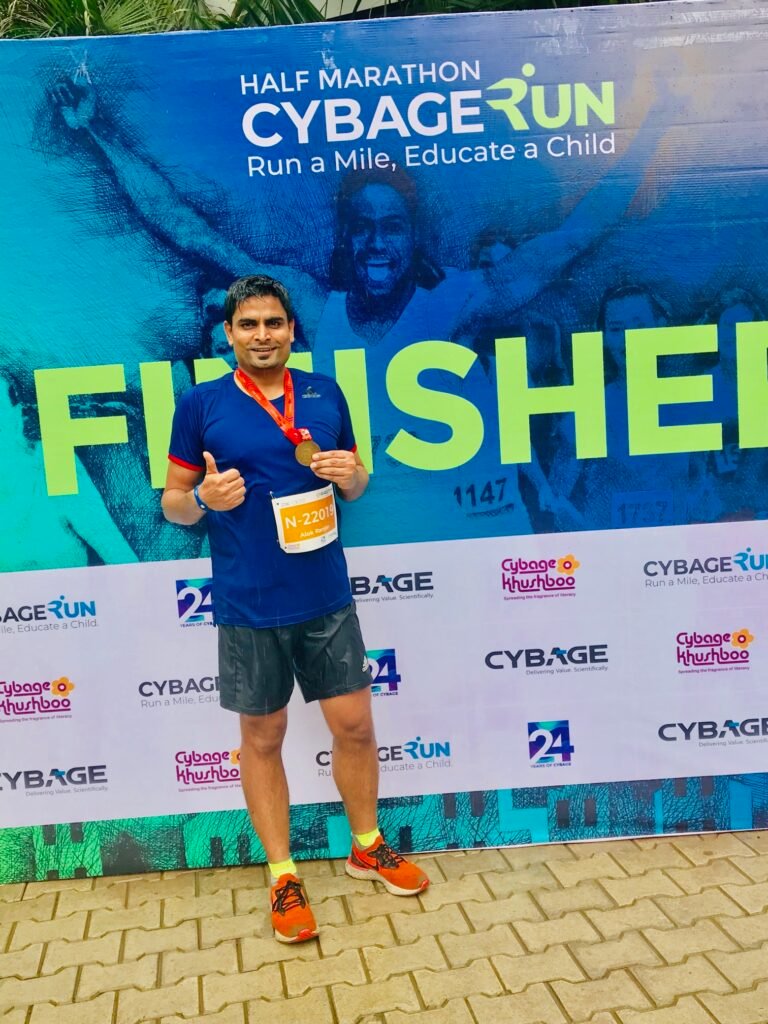 My goal is to run a full marathon and I must admit I have a long way to go, but I intend to be a better version of myself every day. I too have several smaller goals, like increasing my pace, completing an HM in less than 2 hours, and a few more but for now I am focusing on improving my techniques and form that can leapfrog my running journey.
Be Consistent – I always believe that there's no replacement for consistency. It helps us accelerate our journey to perfection. Consistency is the key to accomplishing a goal. The progress can sometimes be incremental or significant but gradually improving oneself over the previous day is vital.
In the past years, there have been numerous lows and injuries which have disrupted my running schedule, but I have tried to make the best of those times to return stronger. During the past few months, since the COVID-19 situation and subsequent lockdowns when almost all runners had to avoid runs on roads, I earned a certification in Yoga to be become a Yoga instructor to further add value to my running techniques. It is important to stick to a schedule in your transformation journey.
Be Inspired – Being aware of fitness and leading a healthy lifestyle is gradually becoming mainstream globally. We have numerous amateur or professional athletes who have achieved their dreams with perseverance and aplomb.
Social media platforms provide us a sneak peek into the lives of these athletes and their schedules. Learn from what they do and stay motivated. Personally, I always say to myself I may lack a technique or skill in the present moment, but this should not be the case after a few months. This inspires me to learn and acquire new skills.
Eating Right – Nutrition is an important part of the transformation journey. It is important than regular workouts. You may work out for 2 hours a day but unless you eat right, you will not see any progress.
Eating right comes from adequately adding both macronutrients (carbohydrates, proteins, and fats) to your diet and micro-nutrients (minerals and vitamins). My recommendation is to follow a diet that doesn't STOP you from consuming what you love but at the same time provides the necessary fuel to run vital body functions.
The most common myth around physical transformation is working out more and ignoring the nutrition part but it is exactly the opposite. Nutrition forms 70% of your transformation while the workout components are just 10%. The rest is filled by sleep and rest.
Workout plan – This is your workout plan, choose what you love. You can choose just to walk daily for 30 mins or 1 hour or choose running or spending time in the gym or doing a home workout, the choice lies with you. The most important aspect is being consistent to accomplish the goal.
If you are unsure about workout plans, choose to download the walking app on your phone (a) or download Nike Running app or Runkeeper, Adidas running app, etc. to provide guidance to your workouts or join a running club near you. Additionally, you can decide to train under a fitness coach who will understand you and design a program that suits your needs.
I have been interacting with many amateur and professional athletes in the past few years to learn the basics and how they excel every time. In the quest to further upgrade my knowledge, I am also in the process of earning certifications so that I can impart fitness and nutrition guidance to those interested.
Being Unique – Each of us is unique and there's no one size fits all in fitness and nutrition. Your plan should be designed according to your food habits and lifestyle. After all, it's your transformation – YOU SHOULD OWN IT.
We often tend to ignore finer nuances for bigger things in our transformation. Your physical transformation can start fro
m simple activities like drinking at least 3 liters of water daily or sleeping adequately for 6-7 hours daily. We are born to move, and it is recommended to spend 150 minutes per week performing moderate-intensity physical activity. Our heart muscles respond to the exercises and become strong. By just performing 22 mins of exercise daily, we can meet the recommended daily schedule for physical activity.
Image source:hhs.gov
What matters to us
The present COVID situation has made us realize the importance of things that really matter to us.  Each one of us may have different priorities in life but our health is the manifestation of what matters to us. We must and should not overlook health priorities, especially at a time when being stronger is about keeping our immune system right.
The top 3 things that matter to us in our pursuit of living a healthy lifestyle should be,
BEING CONSISTENT with our workout schedule
BEING CONSISTENT with our nutrition
BEING CONSISTENT in staying motivated
I hope you liked this post and would share your thoughts with me. This post is based on my learnings and I am sure you may have many more learnings to add to this list. I would love to hear your thoughts. Do drop a note in the comments section.
Keep smiling, stay healthy, and stay safe.
Cheers!
P.S: I am still very much part of the corporate world and I believe, running and healthy lifestyle has helped me in becoming more positive and staying focused.
About Alok Ranjan
Alok Ranjan is recognized among the Top 100 Innovative MarTech Leaders by World Marketing Congress & CMO Asia. He is a Marketing leader, Digital Evangelist, and Marketing Technologist. He enables organizations in transforming their buyer journey by aligning marketing and sales functions to business objectives for maximizing their brand outreach, strengthening thought leadership, and accelerating demand generation.